Don't PAY YOUR CONTRACTORS!!!! Just kidding, of course, you need to pay them, but when, how and when and how (yes I said that twice) is CRITICAL. Tune into today's episode to hear how we messed that up SO many times and finally found the best way to pay them.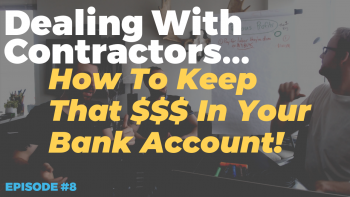 Let's chat about:
-> Ways To Avoid Paying Contractors too soon or
-> The Best way to ensure a contractor does the worst work and gets paid for it (And how to avoid this)
-> The reason's we like to use the same people over and over again
-> A Home Depot hack that will help you monitor your funds going in and out.
You can also Subscribe and Listen on Both Itunes Podcasts and Stitcher Here: 
Tune Into Today's Episode for a classic Wholesale Daily show with Dustin, Josh, and Cory!
There are 3 HUGE mistakes that almost all new Tax Lien & Deed investors make, and I've got a free training guide that will not only help you AVOID THEM completely but also save you thousands of dollars in wasted time and money... And it's yours today ->